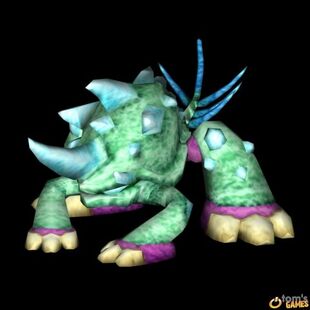 Amorg is an Earth-type Gara Divine Beast. It is focused more around HP, and Vitality, so it is very weak when it comes to attacking the enemy; in most cases, the players.
IN THE HEAT OF BATTLE...Edit
Amorg, without a doubt, is the beast that has the most Vitality out of all of the Divine Beasts known. It also has the highest amount of HP, and giving it the reputation of being the biggest staller in the game. Its signature move, Explode (S), automatically deals only 150 damage, but lowers most barriers in one shot, making it a frustrating move to deal with.
AS A BOSS... LIKE A BOSS...Edit
Amorg is like a boss; because it is one! It has the highest HP out of most bosses in the game (besides Levant and Lilith). It also has the highest HP out of ALL the bosses in the game, making it one hell of a boss to go through. If you are looking for a real challenge to go through, be prepared for Amorg.
ITS LOOK-ALIKE...Edit
Its look-alike, Garalhorn, is a Water-attributed Gara Divine Beast, that has the same design and stat layout as Amorg, but sporting a different color: blue. Its signature move is the ever-so-elusive Selahmnite (S), which is currently unobtainable within the game, except with the use of cheat devices. Both Garalhorn and Amorg have uses within the game.