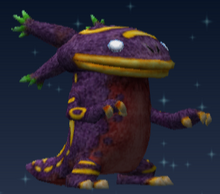 Ginuba is the Evolved stage of the Slimich line. It is a Water-attributed Slimy Divine Beast. Ginuba looks like a stockier version of Ginui which stands more upright, and the nubs on its head have grown into branches. It appears to be based on an axolotl. It evolves into Ginugon.
IN THE HEAT OF BATTLE... Edit
Ginuba maintains the strengths and weaknesses of its earlier stages, being more useful as a healer than an attacker. The Slimich line's natural aptitude for healing spells only add to this bias.
ITS LOOK ALIKE... Edit
Ginubeat is the Earth-attributed version of Ginuba, which evolves from Difslimich. As with others in its line, it looks like a green version of the Slimich line.
IN THE BEAST NOTES... Edit
The easygoing Divine Beast would rather dance than fight. It is good at magic.
Evolved Slimy
HP: C Rank
MP: B Rank
STR: 2/5
SPD: 2/5
WIS: 2/5
SPT: 3/5
VIT: 2/5