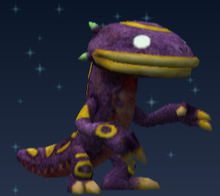 Ginui is the Basic form of the Slimich line. It is a Water-attributed Slimy Divine Beast which resembles a purple bipedal salamander. It is available as two Seed Beasts: Ginui is a D-Rank beast with the Medinis spell and Guts ability, while Ninui is a C-Rank beast with Medinia and Water Power. It evolves into Ginuba.
IN THE HEAT OF BATTLE... Edit
Ginui has plenty of MP to burn through, but only average Wisdom and low Speed so it isn't the best choice for an attacker. With average HP and Resistance it makes for a decent wall against magic, but Vitality is fairly low.
ITS LOOK ALIKE... Edit
Geena is the Earth-attributed version of Ginui, which evolves from Difslimich. It looks like a green version of Ginui and is available as a Seed Beast offering the Ragulth spell.
IN THE BEAST NOTES... Edit
It likes to take walks and heal its friends with its odd dance. There are similar Earth types.
Basic Slimy
HP: C Rank
MP: B Rank
STR: 1/5
SPD: 1/5
WIS: 2/5
SPT: 2/5
VIT: 1/5