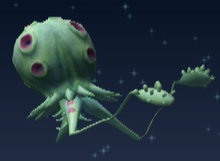 Q is the Water-attributed Basic stage of the Muchinach line of Na Divine Beasts. It resembles an octopus with only two tentacles and suckers on its head. It is available as two Seed Beasts: Q is a D-Rank beast with the Vahlis spell and Wisdom Up 1 ability, while Nu-Q is a C-Rank beast with Vahlia and Water Power. It evolves into Geso-Q.
IN THE HEAT OF BATTLE... Edit
As the Basic stage of the Muchinach line, it bears high Wisdom and MP, with average speed and low defense. Its signature move is the Vahl line of spells, which are powerful single-target offensive magic.
ITS LOOK ALIKE... Edit
Q has an Earth-attributed look-alike called Tar-Q, which evolves from Desonach.
IN THE BEAST NOTES... Edit
It saves up magic in its flexible arms and big head. This Divine Beast is good at magic.
Basic Na
HP: D Rank
MP: C Rank
STR: 1/5
SPD: 1/5
WIS: 3/5
SPT: 2/5
VIT: 1/5